As seen on The Huffington Post Travel, June 2014
San Diego often does not receive the attention it deserves as a tourist destination. Yet with beautiful beaches, perfect weather, friendly people, fresh food and a lively downtown, it's easy to see why San Diego has been named "America's Finest City." This summer provides an excellent opportunity to explore the diverse neighborhoods of San Diego and to discover for yourself why this West Coast paradise is an ideal place to visit. 1. Downtown San Diego The San Diego International airport is one of the most conveniently situated airports in the world, as it is located right next to the city's downtown district. With hotels, restaurants, nightlife and attractions, Downtown San Diego is a good place for business travelers to hang their coats at one of the Convention Center or Harbor View hotels. An easy way to become familiar with the city's attractions is by climbing on board the San Diego Trolley. The tour allows you to hop on and off at any of the trolley's stops: Old Town San Diego State Historic Park, Midway Aircraft Carrier Museum, Seaport Village, Gaslamp Quarter and William Heath Davis House. Once you have learned about the Mexican-American heritage in the area, get out and enjoy the beautiful outdoors. Embark on a whale watching expedition or attend a Padres game. Be sure to set aside plenty of time to visit the World Famous San Diego Zoo as well as the museums and gardens of Balboa Park.
Balboa Park. Photo by Sucheta Rawal
In the evening, check out India Street, home to Little Italy, a neighborhood rich in Italian culture with a chic urban flavor showcased in both its culinary and housing styles. Eat at the hip and hearty Prepkitchen and pay a visit to one of the watering holes around the corner. List of events in downtown San Diego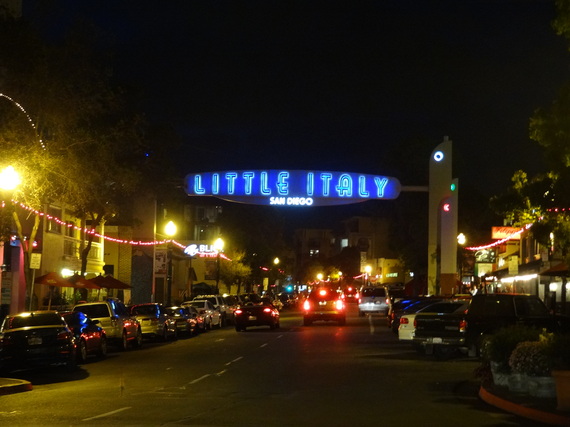 Little Italy. Photo by Suchet Rawal
2. Coronado Island Catch a ferry and cross over the picturesque Coronado Bridge, an ideal place to take in a view of the downtown skyline and sailboats in the San Diego Harbor. Get a feel for this charming small town within a big city as you stroll through the island's boutique shops, restaurants and cafes.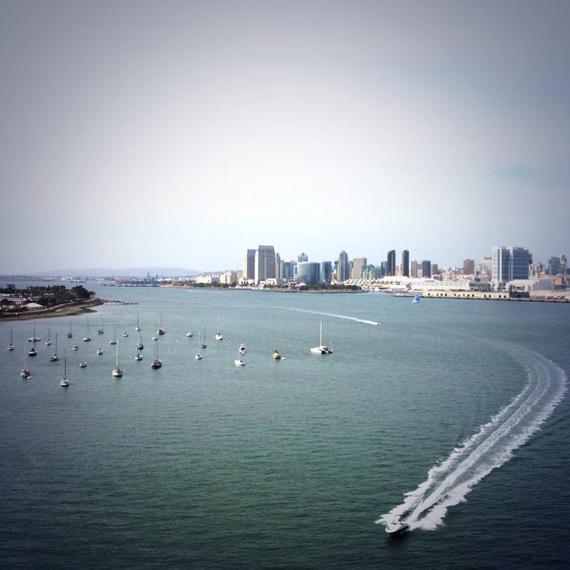 Coronado Bridge. Photo by Sucheta Rawal
Next, check in at the most historic hotel in the city, Hotel Del Coronado. Built in 1886, the property has been renovated with modern amenities and spacious guestrooms while preserving landmark architectural elements, including the original Otis elevator. The Del (as it's called) has hosted many famous visitors, including U.S. Presidents Harrison, Taft, Carter, Roosevelt, Reagan, Nixon and Ford as well as famous authors and Hollywood actors. It was also the backdrop of the movie Some Like It Hot starring the ravenous Marilyn Monroe. The resort is equipped to meet every need of a relaxing family vacation. The on-premise spa, salon, fitness center, swimming pools, restaurants, coffee shop, ice cream parlor, candy store, shopping arcade, history lane, gift shops and children's activity center give guests no reason to leave the property. In addition, Hotel Del's sandy backyard was named "America's #1 Beach" and is the perfect place to build a castle, search for seashells or swim in the sea. Yoga, surf and paddle-boarding lessons are offered right at the beach.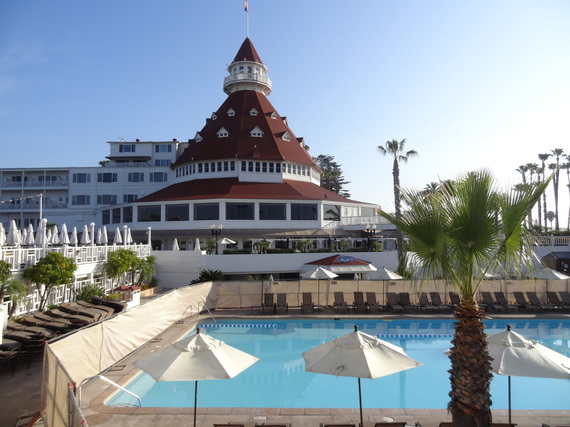 Hotel Del Coronado. Photo by Sucheta Rawal
After some pampering with a signature Shell Coronado massage, enjoy a romantic seafood dinner by the outdoor fireplaces at 1500 Ocean. Finish with the decadent molten chocolate cake with poached cherries, toasted almonds and vanilla ice cream.
3. La Jolla Drive north for thirty minutes to arrive at the quiet residential area of La Jolla. This is where you will find California's famous bluffs and caves that harbor hundreds of seals and sea lions. Stay at Grande Colonial Hotel, a historic boutique hotel located on Prospect Street with direct access to quaint neighborhood shops and restaurants. Completed in 1928, this European-designed hotel has received countless accolades for its preservation efforts and has been affectionately named "La Jolla's Jewel." Large and sophisticated rooms overlook the Pacific Coast and take you back to an era where only the finest crystals, glass and mahogany were used to create an intimate and luxurious ambiance.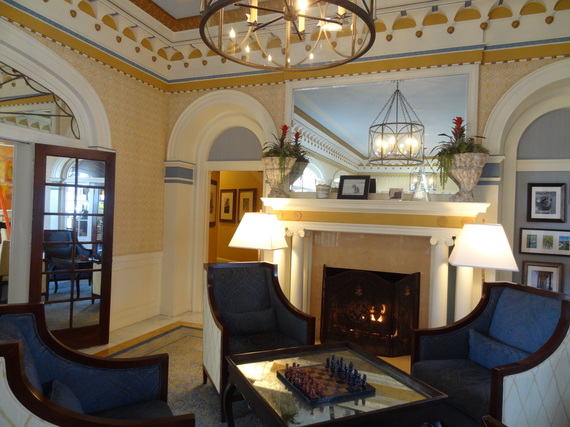 Lobby of Grande Colonial Hotel. Photo by Sucheta Rawal
Don't miss a California sunset and dinner at NINE-TEN. Since opening, the restaurant has garnered numerous awards for featuring America's best food and wine. Modern California cuisine led by award-winning Chef Jason Knibb and Pastry Chef Rachel King emphasize a market-driven, farm-to-table philosophy with locally made cheeses, artisanal breads and an award-winning wine cellar. Every dish is crafted with extra attention to wow diners with visual and textual finesse.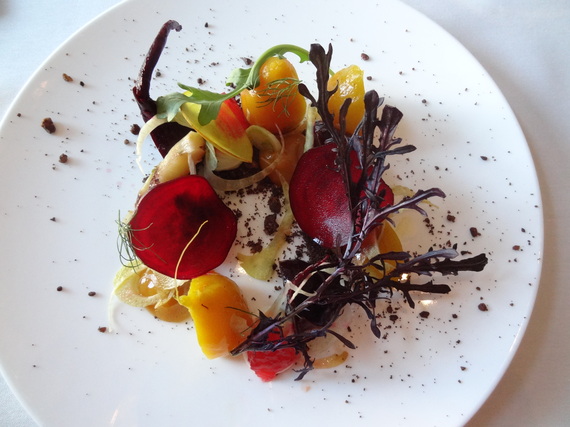 Beet salad at NINE-TEN. Photo by Sucheta Rawal
The hotel is a step away from lovely beaches, including La Jolla Cove, the Children's Pool (named by TripAdvisor as one of the "Top 10 Wonderfully Unique Beaches" in the world), La Jolla Shores, Windansea Beach and Black's Beach.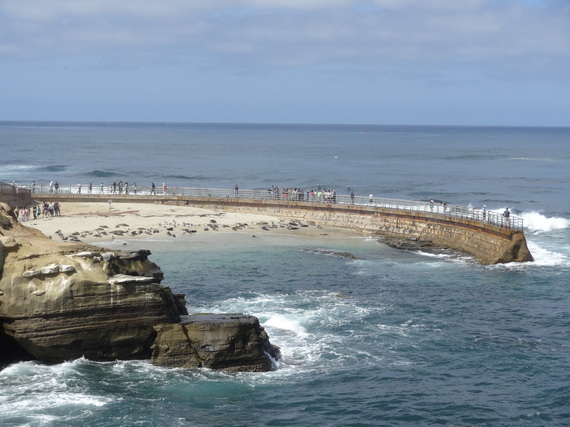 La Jolla Shores. Photo by Sucheta Rawal
Since San Diego enjoys crisp sunny temperatures yearlong, alfresco brunch is popular any day of the week. Try the lobster rolls or strawberry pancakes at Cody's La Jolla or any of the fresh Californian-Mexican specialties at The Cottage.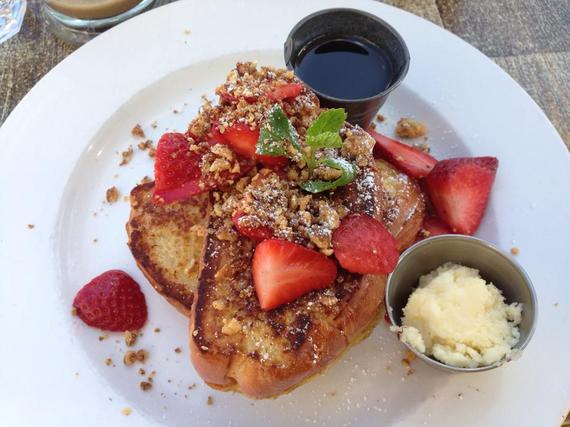 French Toast at Cody's. Photo by Sucheta Rawal See events in La Jolla
4. Del Mar Del Mar is located near the coast in northern San Diego, adjacent to the Los Peñasquitos Canyon Preserve where open spaces and rolling hills nestle Spanish-style luxury villas. Rated as one of only ten triple Five-Star resorts in the world by Forbes Travel Guide, The Grand Del Mar is a Mediterranean estate and a grand attraction. Drawing on inspirations from Italy, Spain and Morocco, the architectural elements of the pavilions and gardens create a magical ambiance for weddings, honeymoons and romantic getaways. Spend a few days at one of the suites or indulge at the Brisa Villa, equipped with a secluded terrace, climate-controlled patio, sunken Jacuzzi tub, expansive gourmet kitchen and state-of-the-art media room. Bask in the warm San Diego sunshine by one of The Grand Del Mar's four heated pools. Sip expertly crafted cocktails at The Lobby Lounge and take elegant high tea at the handsome Library. The resort also boasts a championship Tom Fazio golf course, Five-Star spa and exquisite dining. Savor Mediterranean-influenced dishes using only the finest seasonal ingredients atAmaya, the casual restaurant at The Grand that serves breakfast, lunch and dinner. Catalan-style shrimp floating in chile and lime broth served with fresh grilled baguette and roasted baby beet salad lightly dressed with basil-pistachio butter, Comice pear and warm goat cheese make for refreshing summer appetizers while enjoying the picture-perfect views from a shaded terrace. The Grand Del Mar's signature restaurant, Addison, features Relais & Châteaux Grand Chef William Bradley's contemporary French creations paired with a Grand Award-winning wine list of nearly 3,600 selections.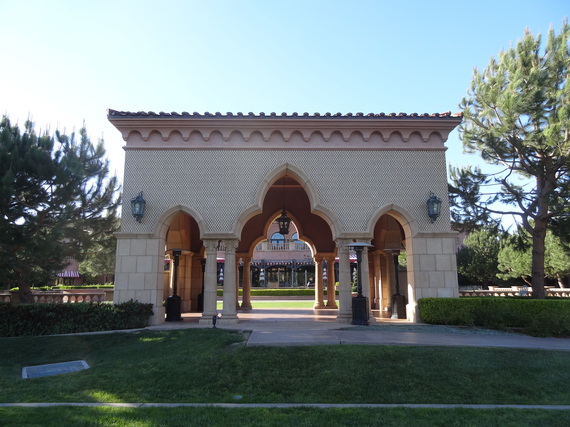 View from Amaya Terrace. Photo by Sucheta Rawal
No need to leave the kids behind. The Explorer's Club engages children and teens with visual media, creative outlets and environmental endeavors while you indulge at The Grand Del Mar To read more about my trip to San Diego, visit Go Eat Give
Disclosure: I was a guest of Hotel Del Coronado, PrepKitchen, Grande Colonial Hotel and Amaya, but my reviews are based solely on my own experience.