As seen on Huffington Post Travel, September 2014
Until two weeks ago, I couldn't even pronounce the names of the cities, and now they are deeply engraved in my memory. Greenland is one of those so close, yet so fardestinations that make you feel small, insignificant and detached from rest of the world.
When people asked me why I was going to Greenland, my response was "Why not?" Yet they gave me blank stares, not knowing much about the country as a tourist destination. "What will you eat, how cold will it be, what will you do there?" These were a few things that even I didn't know of before I started doing my research on Greenland.
What I did find was one of the most beautiful natural sceneries in the world — whether you look from the air, sea or land. With only 60,000 people residing in the third largest country in North America, the towns are small and spread out. I traveled by air, chopper and boat between places, often found a handful of eateries, and comfortable accommodations in the charming old towns.
During my 10 days traveling around the Western and Southern parts of Greenland, I learned a lot about where to hike the glaciers, upcoming modern Greenlandic cuisine, best places to rest my head, and much more.
Here is sneak peek of places I visited…
Ilulissat (meaning Icebergs), a magical town located approximately 200 km (120 miles) north of the Arctic Circle. The most visited place in Greenland is home to Ilulissat Icefjord, a UNESCO World Heritage Site. Tour by air, sailboat and on foot — all three if you can afford to (book through World of Greenland). Stay in an igloo at Hotel Arctic overlooking the Icefijord and Disko Bay.
Kangerlussuaq — Site of Greenland's largest commercial airport, the entire city is built around the runway. The only reason to visit is to see Ice Cap Point 660 along the Arctic Circle. Drive through the moraine landscape and walk directly on the vast ice sheets that make up the Greenland Ice Cap.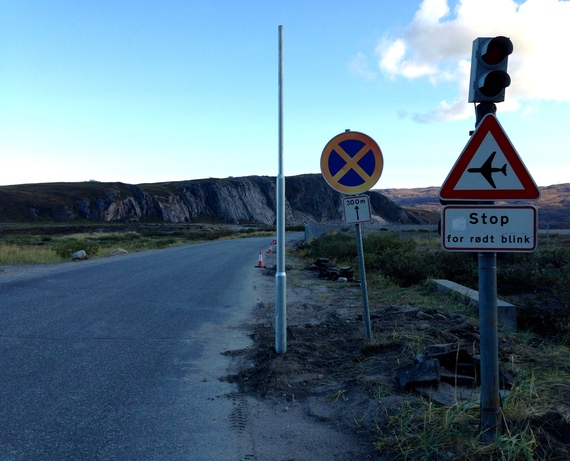 Crossing streets in Kangerlussuaq
Nuuk is the capital and largest city in Greenland. Admire traditional Danish homes as well as modern housing projects. The city offers museums, malls, restaurants and cultural centers where visitors can learn about Greenland's ancient civilizations dating as far as 2200 BC.
Narsarsuaq — This is the place to see blue ice glaciers; a phenomenon caused from compressed snow and increased size of air crystals. The best way to soak in the Narsarsuaq Glacier, or the Dead Glacier, because it doesn't produce any icebergs is by hike (book through Blue Ice Explorer).
Ipiutaq — The area around the settlement is home to many sheep farms that were inhabited by Norsemen. The only reason to come here is to relax at the Ipiutaq Guest Farm, a working farm with a two-bedroom guesthouse and French-Greenlandic cuisine. Picturesque valleys, vast pastures, and glaciers surround it, and there is nearby fishing and hiking.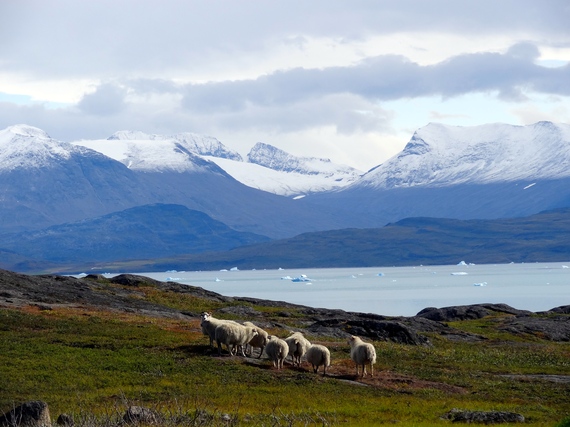 Backdrop of Ipiutaq guest farm
Narsaq — Another sleepy little town in south Greenland where photographers can have a field trip. With a backdrop of mountains, colorful homes and beautiful shore of Tunulliarfik Fjord, there is no reason to stay indoors.
Qaqortoq — The capital of South Greenland can be identified as the Portofino of the Arctic. A dramatic approach from water captures the bay lined with shrimp boats and homes spread across the hilly slopes. The destination is known for kayaking, guided hiking, whale watching, cross-country skiing, and boating (book through Greenland Sagalands).
To read more about my journey to Greenland, follow my blog at Go Eat Give.
~ Words and photography by Sucheta Rawal. Follow on Twitter,Facebook and Blog.